We offer UPS shipping at the following service levels: Ground, 3-Day Select, 2nd Day Air AM, 2nd Day Air, Next Day Air Saver, and Next Day Air. Please click here for details regarding the UPS service levels. For UPS Ground shipments, please review the map below: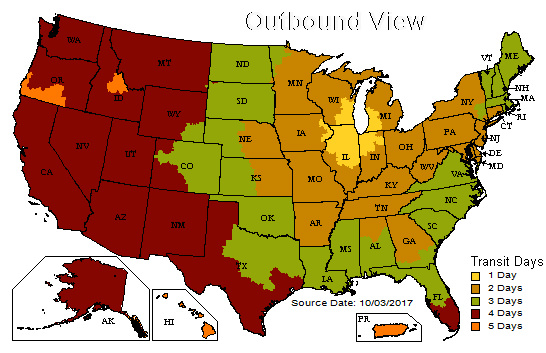 Most orders placed by 4:30pm EST (Monday-Friday) will ship same day. Orders placed after 4:30pm EST will usually ship the following business day.
Orders shipping via Fedex Freight Priority must be placed by 1pm EST for same day shipping. Orders placed after 1pm will be shipped the following business day.
Shipping labels will always show your company information as the sender. You may select blind shipment during checkout if you would like the label to simply say "Warehouse" instead of your company information.
Your UPS tracking number will be e-mailed to you once your order has shipped.
If "In-Store Pickup" is selected, your order must be picked up at our Romeo, MI location within 48 hours after placing the order.